Transfer CourseEvaluation Procedures
Transfer coursework from higher education institutions outside the University of Connecticut is a common component of many successful student's plans. Whether you are a current UConn School of Business student planning to take a course over the summer at a local community college, or you are a student currently enrolled at a different University exploring your options to transfer, the School of Business provides information to support students in their pursuit of a diverse and individualized plan, while ensuring the standards and rigor of the School of Business undergraduate program is upheld. Please read below based on your current student status.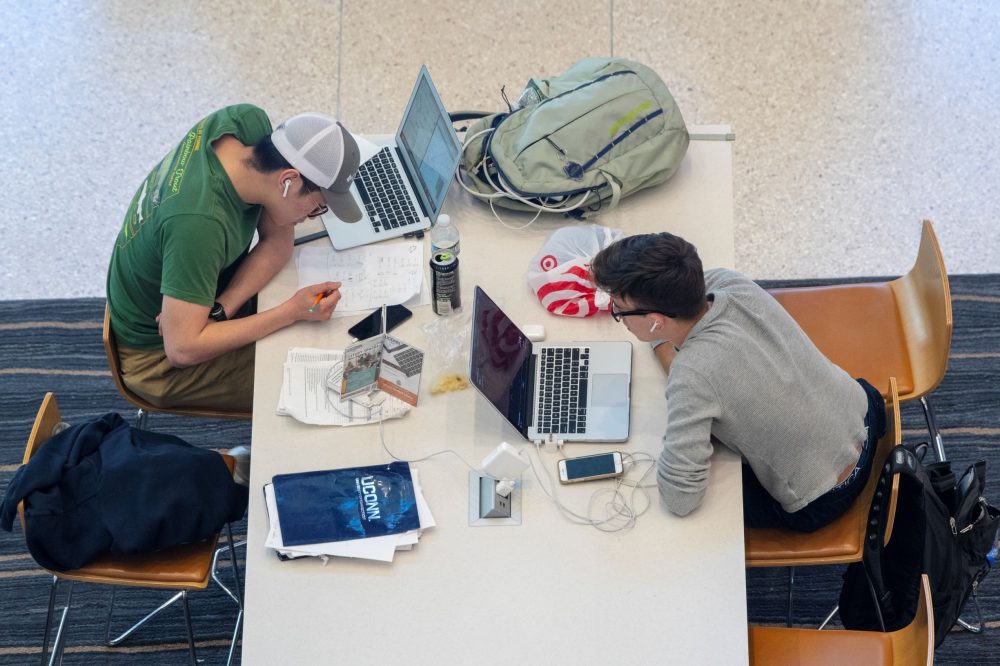 Current UConn Business Students
Evaluation of Non-Business Courses by the School of Business

Students should follow instructions in the link above if planning on taking a non-Business course in transfer (ie. School of Business general education requirements or electives); evaluation requests for critical required courses (ECON, MATH, ENGL, STAT) should be directed to the department within which the course exists
Courses that transfer in as generic credit (given five-digit 9XXXX numbers, ie. HIST 91000) can be evaluated further by department within which the course exists, or only after the course has been completed through the School of Business Substitution/Course Evaluation Request form (link below) with the submission of the course syllabi and a sample of the student's own materials submitted throughout the course

Ultimately, students should be prepared for generic credit to count as elective credit only and proceed with taking the course only if elective credit is what the student seeks to earn

Note that if a substitution is approved, it is likely only for the School of Business requirement (a HIST course for "Business Arts and Humanities,"  a COMM course for "Business Communication," etc.), meaning the student may still need to take an additional class to satisfy the University Content Area requirement
Evaluation of Business Courses by the School of Business
Courses from non-AACSB accredited institutions will not be permitted to transfer in as 3000/4000 level requirements (check the AACSB website to confirm the accreditation status of an institution)
For a course to be approved, all prerequisites must be complete before taking the course elsewhere
Be aware of your major's residence requirement, identifying courses that must be completed at UConn
Students are encouraged to speak with an advisor during our drop-in advising hours to discuss plans eligibility to take a particular course at another institution.
Current UConn Students in Non-Business Majors
Evaluation of Non-Business courses by the School of Business
Non-Business courses are not evaluated by the School of Business, and students are encouraged to take the courses as they are described on the plans of study to avoid any chance of being behind since previous courses taken UConn will not be substituted, see School of Business general education requirements for guidance
Evaluation requests for critical required courses (ECON, MATH, ENGL, STAT) should be directed to the department within which the course exists
For other school required courses (PHIL, COMM, HIST, etc.), students may direct their requests to the department within which the course exists, or a student may submit for a substitution request only after they are a School of Business student
Evaluation of Business Courses by the School of Business
The School of Business will evaluate Financial Accounting courses for potential alignment with ACCT 2001 for students seeking eligibility to apply to a Business major through the School of Business Substitution/Course Evaluation Request form (link below)
Courses from non-AACSB accredited institutions will not be permitted to transfer in as 3000/4000 level requirements (check the AACSB website to confirm the accreditation status of an institution)
All other Business course evaluation requests may be submitted only after they are a School of Business student
Students

not

planning on applying to the School of Business may request evaluation 2000/3000/4000 level Business coursework if it is relevant to their current major or minor, noting that for a course to be approved, all prerequisites must also be complete
Prospective Transfer Students from Outside Institutions