Below you will find answers to some of the most common questions students have when they are registering for classes. Please note, further tutorials about how to use the various class search, course planning, and enrollment tools in StudentAdmin can be found on the StudentAdmin Help page (http://studentadmin.uconn.edu/help/students/).
An error message that appears after trying to register for a course can indicate a variety of enrollment issues. Look specifically at
what the error message says
to know what next steps to take.  The two most frequently encountered errors deal with not having the
prerequisites 
(see What is a prerequisite/corequisite? below) or the course having a
reserve capacity
(see What is a reserve capacity? below). Another issue is that some courses are set up to require
instructor consent
.  This means that you must request a permission number to be allowed to enroll through StudentAdmin (see How do I request a permission number? below).  You can see if a course requires instructor consent in StudentAdmin, looking at the class details.
Some departments will choose to reserve seats for certain groups of students (majors only, honors only, seniors only, etc.). Ultimately if you cannot self-enroll, you don't meet the reserve capacity requirement so you should try to find another section or class for which to register.
Many times a course may look "open" but those seats are all reserved. Using the Dynamic Class Search in StudentAdmin is helpful because you can see how many "unreserved" seats remain (or if seats have been reserved for you), so you can build a schedule with classes in which you can register. The link to the Dynamic Class Search is on your Student Center, and also found under the Self-Service dropdown menu.



After all groups have been able to register, departments may release the reserve capacities and allow anyone who meets the pre-requisites to enroll into open seats. So, keep looking in the registration system as the start of the semester approaches and you may find that more seats are available.  If it is a course that you need for a minor, you may want to try to submit a permission number request (see How do I request a permission number? below).
Sometimes courses are reserved for students in a specific major: if you wish to change you major within business, you can view Business major change procedures on our forms page.
Prerequisites are requirements (courses, credit standing, a declared major, etc.) that have to be completed or obtained prior to taking the desired course.  If a course is listed as a corequisite, it can be taken at the same time as the desired course.
The prerequisites for a course are located in the Undergraduate Catalog (catalog.uconn.edu) and also listed in the Class Detail section in StudentAdmin that you see after searching for a course. Prerequisites must be posted to your UConn transcript for the system to recognize that you meet them (AP and transfer courses may take time to post—run your unofficial transcript to confirm the prerequisites are on your UConn transcript). If the prerequisites are not on your transcript, the system will not allow you to enroll. If you are enrolled in a prerequisite at UConn over the summer (it is on your UConn transcript), the system will recognize that and assume you will finish the course, and allow you to enroll in a course requiring that prerequisite for the Fall (even if you have not yet finished the course yet over the summer).
The Undergraduate Catalog can be used to find out if a course fulfills a content area. The catalog is available online at catalog.uconn.edu. Navigate to the General Education Tab and click Content Areas. There you will find tabs for all 4 Content Areas and all the courses listed that fall into each Content Area.



You will also notice that each course description (in the course directory) will list any content area that the course fulfills (i.e. "CA 2") at the end of the course description.
Non Business courses: Email the instructor
Business courses: Submit an online permission number request
A permission number allows a student to override the restrictions placed by the registration system—most commonly overriding a class that is full. Each department and school at the university manages this process differently. A good general rule of thumb for non-Business courses is to email the instructor (you can look up contact information at
phonebook.uconn.edu/
) to ask for a permission number. You could also contact the department by searching for the department name and contact information on the UConn website (example: google "UConn undergraduate History department" to look for contact information).  This is a good strategy for a course that does not have an instructor listed. In the School of Business, however, every permission number is requested through an online permission number request form, available at
undergrad.business.uconn.edu/forms
. Your request will go to the appropriate department (Finance Department, Accounting Department, etc.) and you will be contacted by the department directly if a permission number can be granted to you. Requests for permission numbers are not guarantees of enrollment, since they are given out at the discretion of the department based on a number of different factors. If granted a permission number, enter it in the designated area in the top right hand corner of the course enrollment page in StudentAdmin.
Some departments use a waitlist to give students a chance to obtain a seat in a course that is currently full. You must select the appropriate box while enrolling through StudentAdmin to indicate you would like to be put on a waitlist for a course.  From there, you may get a permission number to enroll, see more details about the process on the Registrar's waitlist page.
During the open enrollment period (check these dates in the "Enrollment Dates" box in your Student Center) you can add/drop/swap courses at your discretion without any marks on your transcript. Between week 2 and week 9 of the term (look at the Academic Calendar on the Registrar's website for specific dates), any approved dropped courses will have a "W" (withdrawal) recorded on your transcript.
While there is no published list of all "W" courses being offered each semester you can search for them with the "Class Search" Function in StudentAdmin. Simply search for classes like you usually would but leave the "Subject" field blank. Then in the field asking for course number, select the "Contains" option from the drop down menu. Then in the box for the course number type "W." Then hit search. The search will then provide a list of all "W" courses being offered that semester.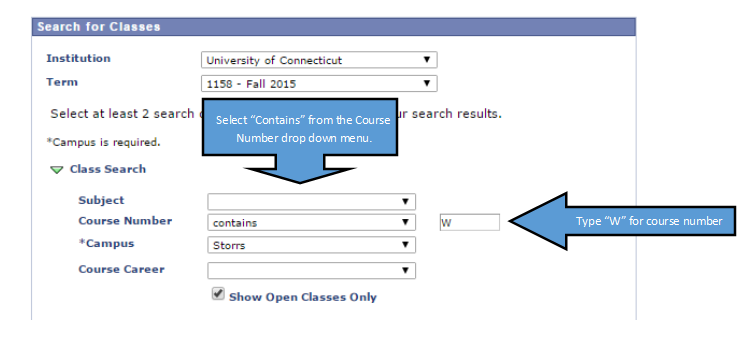 .