UConn Business Honors Program
Join a network of scholars as you pursue excellence and develop leadership skills within your professional field and community.
UConn Honors is a leading collegiate destination for high-achieving students from Connecticut and beyond.
The Honors Program represents UConn's commitment to educating highly motivated and creative leaders and thinkers. We offer the personal attention and community of a liberal arts college while also providing students with the research, cultural, and athletic opportunities of a major research university.
The University of Connecticut Honors Program has a long history that began over fifty years ago, and has grown into a vibrant community of over 2,000 students spanning all of UConn's undergraduate schools and colleges. 
Honors is, at its foundation, about academic excellence and personal growth. In addition to specialized honors courses, research opportunities and events and programs designed for your interests, Honors students receive additional benefits to help you to achieve your personal, academic, and social goals.
Student Spotlight: Takera B.
Accounting '25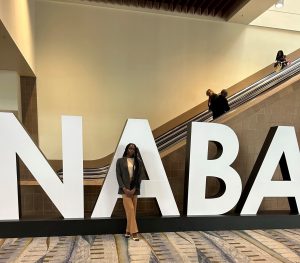 "My time in the Honors Program has allowed me the chance to experience a close-knit community where there is a deeper level of understanding. In Honors there will always be someone willing to help or direct you when you're experiencing a problem. This has been the trait of honors that I have enjoyed the most as someone who can be very introverted. The Honors program has allowed me to pursue all my academic, social, and personal goals and has truly elevated my experience here at UConn. "
View the School of Business Honors Experience year-by-year.
School of Business Honors Advising:
For the first two years, Business students in the Honors Program are advised by their assigned professional staff advisor. For a student's junior and senior years, an Honors student will have an Honors Faculty advisor in their major.  Students will be assigned their Honors Faculty Advisor in advance, in a student's second year, so discussions and departmental engagement can begin early.  Faculty Advisors and other essential major-specific information can be found listed below.
2023-24 Important Dates
10/02/23 - Honors Lunch with the Deans
10/14/23 - BCLC professional Conference (Storrs)
11/10/23 - Honors Case Competition
Spring '24 (TBD) - Networking Forum (Storrs)
Spring '24 (TBD) - Networking Forum (Stamford)
4/12/24 - Honors Case Competition
4/19/24 - Spring Honors in Business Showcase
School of Business Honors Information:
The Honors GPS Team collaborates with Honors staff to help students understand and complete Honors co-curricular graduation requirements.
The Office of National Scholarships and Fellowships recruits and mentors high-achieving students for prestigious national and international scholarships
Undergraduate research develops transferable skills with broad application, including critical thinking, problem solving, communication, and collaboration.
Student Spotlight: Nathan Q.
Analytics and Information Management '24
"Being an honors student has allowed me to apply my knowledge in the classroom to the real world. In my business honors classes, I've often had projects to do some research about class concepts and how they may apply to the real world. For example, for a management class, I did some research on organizational behavior in companies such as Apple, which I found to be quite interesting."
Student Spotlight: Cassandra B.
Finance and French '24
"The best part about being a student in the honors program is being able to surround myself with highly motivated individuals who push me to challenge myself. I lived in honors housing my first two years on campus and met so many great people. It really is a strong community, and one that inspires a sense of commitment to academic and extracurricular excellence. I wouldn't be the person I am today without the people I surrounded myself with who were supportive and encouraging of my endeavors, and never hesitated to share opportunities for involvement. "