Management and Engineering for Manufacturing (MEM)
The Management & Engineering for Manufacturing (MEM) major is an unique academic program that belongs to both the School of Engineering and the School of Business, who jointly award a BS degree.
UConn's Management and Engineering for Manufacturing (MEM) Program is built upon a simple philosophy: to be effective, technological innovations in manufacturing must be applied to a streamlined and simplified operating environment. Through their studies and internships in the MEM Program, students develop a thorough understanding of the interrelationships among the different areas of a manufacturing enterprise. An integrated education provides a competitive advantage in the manufacturing arena, in which applications of subject matter from business and engineering are equally important.
Students who major in MEM are eligible to apply to the 4+1 Analytics Track within the Master of Science in Business Analytics and Project Management (MSBAPM) Program.
The Management and Engineering for Manufacturing (MEM) major is available to students at the Storrs Campus.
Students are exposed to mechanical, electrical, civil, and material science engineering courses as well as business courses including marketing, finance, project management, and accounting. In addition, students take MEM courses, which combine manufacturing engineering and business. These courses are often co-taught by an engineering professor and a business professor. The curriculum also incorporates group project work. Students start with hands-on project work during their sophomore year through a 3D printing lab, MEM 2212. During junior year, students complete group projects in Introduction to Products and Processes (MEM 3221). Senior year, students partake in a yearlong Senior Design Project (MEM 4971W and MEM 4972W), which is sponsored by an industry partner.

You will take classes like:
Get involved in Student Organizations like: MEM Society, Entrepreneurship and Innovation Society and Information Management Society
Study abroad

and take courses toward your major in places like China, Australia, the UK, and more!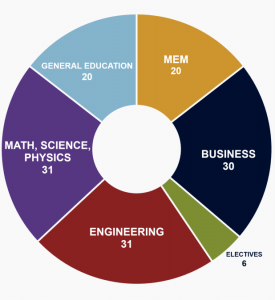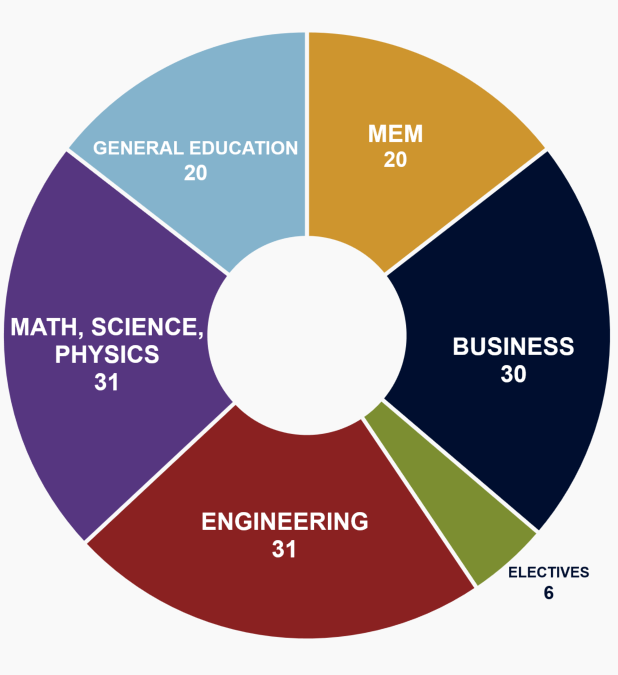 138-Credit Breakdown
If you're interested in:
Both Business and Engineering

The evaluation, design and implementation of new technologies

Gaining total enterprise vision of world-class manufacturing and service organizations

Learning how to increase productivity and reduce costs for an organization

Having immense flexibility to work as practicing engineers or to focus more on the business side
and you want to learn to apply high professional standards with up-to-date knowledge and personal skills, while possessing a strong commitment to life-long learning.

Learn more by contacting a TME student mentor.
Apply to Management & Engineering for Manufacturing
Daniel Castillo (MEM '20)
"This summer I am working as a Plant Operations Engineer for the CSI group in both France and the USA! After my internship last summer, I continued to work here throughout the school year and this summer, I am developing and bringing to life an automated inspection project to inspect our components 100% all independently! Our company is a contract manufacturer of high precision mico-metallic components."